February 2011

Happy VALENTINE's DAY!
TODAY IS WORLD SOUND HEALING DAY
Join thousands around the Planet today with healing sounds for the Earth, see below
---
SAVE THE DATES FOR OUR NEXT
7th ANNUAL CONFERENCE ON SOUND HEALING at Omega Institute
July 1-3, 2010

~THE POWER OF SOUND~!
Dr Jeffrey Thompson, Silvia Nakkach, Lisa Rafel, Zacciah Blackburn, PhD
Concert with Ruth Cunningham, Nacho Arimany and Friends
Info here: http://cms.soundhealingnetwork.org/content/view/217/44/
See Add'l Regional/Members' Event Listings below (VT, MA, Omega, Europe, Canada)
---
Current Events:
If you were unable to join
Director of Education, Zacciah Blackburn, PhD, in his special presentation of
The Art of Sacred Sound , at Omega Institute Sept 6-10, 2010.
He is offering a full unedited recording of 4 days of teaching and practices in a
15 CD SET, for $125. plus $10 S/H THE ART OF SACRED SOUND
Contact him: The Center of Light Institute of Sound Healing and Shamanic Studies
Ascutney VT 05030 USA, 802.674.9585 This email address is being protected from spam bots, you need Javascript enabled to view it www.thecenteroflight.net
He is offering a similar program March 26-30, 2011
SOUND HEALING AND CONSCIOUSNESS , at the Sivananda Ashram, Paradise Island, Nassau, the Bahamas
See all information here .
---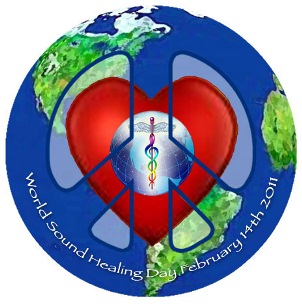 Join thousands throughout the planet for
The 9th Annual WORLD SOUND HEALING DAY

on

Monday, February 14, 2011 At 12 noon Eastern Standard Time (EST--New York Time)
Sound forth for 5 minutes with the "AH", created and projected with the energy of compassion and love, sending a sonic valentine to Gaia, our Mother Earth. At that time, please go to www.templeofsacredsound.org to enhance the vibratory effect as we sound together for planetary peace and harmony.
Please visit this link for more information on this event.

The

World Sound Healing & All One Now Network

is not directly affiliated with World Sound Healing Day, though we support its principles, and encourage you to participate.
Visit www.AllOneNow.org for the latest in our other events, or to listen to our archives.
---
MEMBER PROGRAM HIGHLIGHTS
Here are Member Programs we would like to highlight this month
BODY of SOUND with Ziji Beth Goren

Intention, story, and memory lay the ground for in-depth Voice-Movement practices in a heart-centered circle.

What unfolds? Voice-Movement vignettes, gateways to personal balance and performance reach.

"As a teacher, Beth has shown great capacity for working with both groups and individuals. I have seen her find new and different ways to help others reach their potential."
Bonnie Bainbridge Cohen, Founder/Director School for Body-Mind Centering

www.bethgoren.com (click on Classes and Workshops)

Northampton, MA. Spring Series 2011 March 14/17 - April 11/14 and April 18/21 - May 23/26

Location: Amherst/Northampton MA. TBA. Class will meet on either mondays or thursdays early eves.

Amherst, MA. Summer Training 2011 July 25-29

Location: Amherst/Northampton TBA

Registration:(413) 253-0515 This email address is being protected from spam bots, you need Javascript enabled to view it Letter of intent and background by June 15

*******************************************************************

New York City 2011 hosted by Movement Research July 11 - 15, 1 - 3pm

Location: Dancespace (in St. Mark's Church) 2nd Ave. at 10th Street

Registration: This email address is being protected from spam bots, you need Javascript enabled to view it www.movementresearch.org

** For this New York workshop, Beth is available for private sessions by appointment. 413-253-0515 through July 9, 732-778-3696 after July 9

---
The Vocally Engaged, Fully Expressive You: Come As You Are*

Saturday, April 9, 2011 – 9:30 AM – 4 PM

Location: NY Expressive Arts Center, Central Ave., Albany, NY (just above Lark Street)

A blended workshop of skills and sensitive expression

•Develop confidence and a sense of community •Learn about breath awareness practices

•Focus on posture and gesture •Express your body through movement & sound

•Refine tonal quality •Explore creatively through sound and music

Facilitator: Dawn Collins, M.A., CMP, 2006 graduate of NYEA School and European Graduate School, Switzerland, private studio at 87 Sunset Dr., Stuyvesant, NY, http://www.expressiveartscenter.com

Phone (518) 424-2342 for directions and registration info.
To Have Your News Included: You must be a paid regular member in good standing: send your program notes to us with a subject heading: SHN NEWS in brief, plain text. Mails which require extensive editing or reformatting may not be included.
---
We will occasionally highlight member publications and CD's, as we are able.
Regular Members send yours with a brief outline/review of your work, to us:
SHN Review, PO Box 389, Ascutney VT 05030 USA
---
WE WELCOME OUR NEW MEMBERS!! JOIN AS A FULL REGULAR MEMBER AND RECEIVE DIRECTORY LISTING Services, EVENT Listings, Discounts, Listings here in our news, and More.
---
- Special Announcements -
PLACE YOUR ANNOUNCEMENT HERE: FREE FOR ALL MEMBERS; see instructions below these announcements.
$40/year includes member directory, events listings, article submissions, discounts on services, more.
---
---
- Regional Announcements -
Center of Light Institute of Sound Healing and Shamanic Studies - Upcoming Programs in Sound Healing, Earth Energy & Healing, the Awakening of Consciousness. Ongoing and Upcoming Trainings, Workshops, and Therapies, in VT, Europe, Canada, CA, NC, TX, NY, FL, Peru, Egypt, and elsewhere


School of Sound Healing: UPCOMING CLASSES:

Sound, Healing, and Consciousness,

An in depth 5 day practice regarding the nature of sound, healing, and their relationship to human consciousness, at Sivananda Ashram, Nassau, Bahamas, March 26-30, 2011, details Here

Details on all programs at www.thecenteroflight.net


& on sound programs here
ENTIRE SCHOOL OF SOUND HEALING PRACTICES Begin Sept, 2011,

LEVEL II continues thru June 2011.

Comprehensive exploration and study of sound therapy; how to create a practice with the foundation of understanding established in Level I training.

2012: THE GREAT AWAKENING, programs offered worldwide to enhance this great transformation in Human Consciousness.

Upcoming: The Three Hearts Practice and DIAMOND LIGHT practices: Authentic Elders Wisdom & teachings, specifically offered, to bring us through these times of great transformation; practices in MA, Europe, CA, CAN Click Here for More Info.

Gateways to Ascension; The Earth Mysteries


Sacred Tours to enter living relations with the Elements of Earth and Sky

and come into Our Elevated Being, in Harmony with All Life


PERU 11.11.11: Nov 14-28



New England July 17-23: Temples of the Earth

France, May 14-28: the Heart of Magdalene



ALL Programs in Springfield, MA, Europe, CA, Canada, VT, Bahamas, & elsewhere


LEVEL I Sound Healers Training

Begins SEPT, 2011
---
Please join us for this uplifting and joy-filled
community experience of the healing power of SOUND.
JOIN US EACH MONTH!


at the Richmond, VT, Library

201 Bridge Street in downtown Richmond, VT 05477

Drumming, toning and chanting, and a wide variety of
instruments from Tibetan bells to crystal bowls will enliven your energy.
Bring your own instruments or share ours.

Contact

Dorothy Stone 802.324-5574 This email address is being protected from spam bots, you need Javascript enabled to view it

or

Raphael Groten 802.999-9069 This email address is being protected from spam bots, you need Javascript enabled to view it

Please RSVP if you plan to attend
---
Members: Submit your information to have your events listed here! Members List Free Online in Events Calendar and Directory Listings as well!
Join Today! For listings in SHN News, send to This email address is being protected from spam bots, you need Javascript enabled to view it , with "SHN News" in the subject, and only a small paragraph in plain text describing your event.
Click here for submission protocol

The Sound Healing Network is consistently listed in the top 3-7 search results for 'sound healing' at Google and Yahoo and all their associated search engine sites. This means you are getting HIGH LEVEL exposure on major search engines when you list your news, events, articles, and profile on our site. These are highly beneficial methods of exposing your work to the greater sound healing community inexpensively. Join, list your events, add your events on our news and NEWSFLASH!!